The Third Sunday Of Great Lent: 
The Sunday Of The Veneration Of The Holy Cross
Icon of the Veneration of the Holy Cross provided by: ΕΚΔΟΣΗ και ΕΠΙΣΚΟΠΟΥ, ΓΑΛΑΚΤΙΩΝΟΣ ΓΚΑΜΙΛΗ ΤΗΛ. 4971 882, ΕΚΤΥΠΟΣΗ Μ. ΤΟΥΜΠΗΣ Α.Ε.
Learn About The Feast Of The Veneration Of The Holy Cross
On the Third Sunday of Great and Holy Lent, the Orthodox Church commemorates the Precious and Life-Giving Cross of our Lord and Savior Jesus Christ. Services include a special veneration of the Cross, which prepares the faithful for the commemoration of the Crucifixion during Holy Week. Learn More »
Listen To The Feast Of The Veneration Of The Holy Cross
Apolytikion (Plagal of the Fourth Tone)
Save, O Lord, save Your people and bless Your inheritance; grant victory to the faithful over their adversaries. And protect Your commonwealth, by the power of Your Cross.Listen »
Kontakion (Grave Tone)
No longer does the flaming sword guard the gate of Eden, for a marvelous quenching is come upon it, even the Tree of the Cross. The sting has been taken from death, and the victory from Hades. And, You, my Savior, has appeared unto those in Hades saying: Enter again into Paradise.
Commemorate This Feast With An ICONOGRAM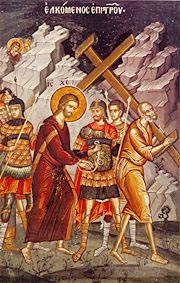 Select an icon from ICONOGRAMS' icon gallery, personalize your ICONOGRAM with a message to a loved one, and send! This is a FREE service offered by the Greek Orthodox Archdiocese of America...Send Your ICONOGRAM Now »